Your questions - our answers
How do I clean my tiSsi furniture?
To enjoy our products for a lifetime, it is best to clean the tiSsi furniture with a damp cloth.
If the stains are a little heavier, use a mild detergent.
Are all the seat cushions of the high chair water-repellent and how do I wash them?
All pads are water-repellent - not waterproof. Of course, they can withstand everyday wear and tear from eating and drinking.
Should there be any major soiling, the covers (without filling) can be washed in the washing machine at 30 degrees without any problems.
The learning tower is shaking?
If the learning tower wobbles after assembly, it is often a minor problem. Please dismantle the anti-tipper (part 6) and mount it again directly.
Then loosen all screws by 2 turns. After all screws have been loosened, please apply pressure from above on both side parts and a second person now tightens all screws again.
This way you have adapted the learning tower to your room climate / floor conditions. The learning tower should now no longer wobble.
Folding bed incorrectly assembled - folding mechanism sticks?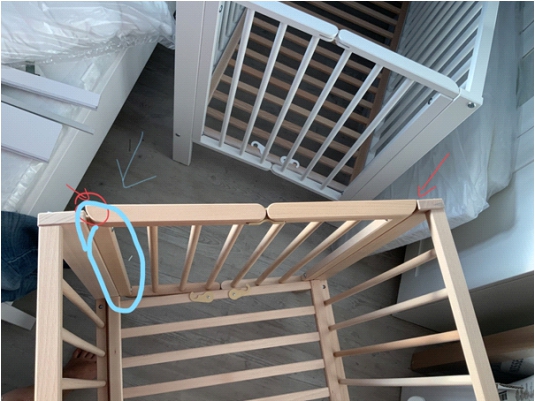 If the bulge of the folding mechanism curves outwards at the marked point, the door is mounted upside down.
Please dismantle the marked strip, turn it 180 degrees and mount it again.
After that, the folding mechanism should work perfectly.
Up to what age can my child use the tiSsi high chair?
Our high chair grows with you! By purchasing the newborn attachment, you can use the chair from birth.
The chair can be used up to adulthood (max. 85 kg) thanks to easy adjustment options that you can carry out yourself.
I have several tiSsi items with the same colour but different appearance. Can this be?
Wood is a natural product. And so it may be that individual items differ minimally in colour.
Where can I find the serial number of my item?
On all our furniture you will find a silver individual series label which you should state in case of queries or complaints.
On the high chair, for example, this is located on the foot. If you cannot find your individual sign, please contact us directly.
What is the maximum recommended weight for the tiSsi furniture?
Our maximum recommended weights are as follows:
Playpen up to 25 kg
Learning tower up to 250 kg
Baby cot 25 kg
Extra bed 20 kg
High chair 85 kg
Does the foldaway bed also fit on a box spring bed?
We offer two different models:
Our "MAXI" model is suitable for standard beds and box spring beds with a lying surface height of 56-73 cm.
Our "Sophie" model can be used for beds with a lying surface height of 39-61 cm.
I would like to write a blog post for you. Who do I contact?
That makes us happy! With our blog, we want to support new and experienced parents, grandparents, children's friends... in their everyday life and are very happy if you would like to contribute to it.
Feel free to contact info@tissi.de
I have praise/criticism - How can I send it to you?
We are always open to praise but of course also criticism. That's the only way we can keep getting better! 😊
Feel free to contact us directly at info@tissi.de